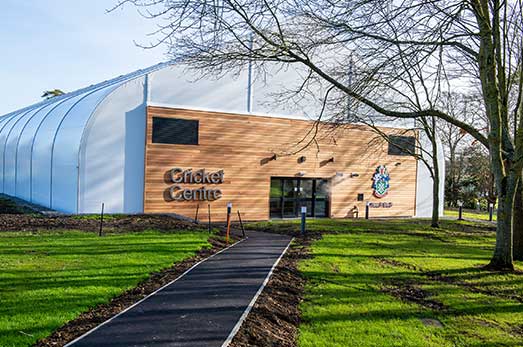 Client
Millfield Senior School
Challenge
Millfield schools indoor cricket nets were situated in a multi-purpose sports hall, which resulted in scheduling challenges for the various sports departments, due to the increasing numbers of cricketers and an expanding cricket scholarship programme. The school also used an air bubble for winter training, however, the bubble blew away on several occasions resulting in the school investing in a bespoke state-of-the-art cricket training facility from Paragon Structures.
Solution
The new state-of-the-art facility enables Millfield cricketers to practise all the year round, at all times of day, to increase the already 370 strong programme (including 80 girls). It also encourages independent practice, which is key in the development of high performance cricket. The Centre features new PitchVision technology on three lanes, a state of the art 4G fielding area, three adaptable bowling and batting surfaces, as well as five nets and an expansive 22 metre run-up.
Time Frame 
A 21.3m x 50m fully insulated structure was built with 7 weeks and the overall project completed in 4 months.
Results
Millfield Senior School have one of the best indoor cricket training facilities in the world and it is enjoyed by Millfield pupils, club cricketers, county age groups and Somerset and Gloucestershire senior 1st teams. The Paragon Structure provides an incredible sporting environment due to the daylight panel, providing an abundance of natural light. The energy efficient and climate controlled structure provides the perfect training temperature.
Mark Garaway, Director of Cricket said, "The Millfield Indoor Cricket Centre will create a far greater opportunity for all Millfield cricketers, irrespective of age, experience level or ability. The Centre places Millfield Cricket at the forefront of cricket development for many decades to come and will also act as a hub for cricketing organisations up and down the Cricketing pathway."
Specific Uses
Year Round Training Facility
Expansive 22 metre run up for quick bowlers
Spin, Seam and Pace bowling and batting surfaces
PitchVision Technology
State of the art 4G fielding area
The cricket Centre can be rented out by local clubs, county age groups & professional clubs
Enhanced schools cricket offering and scholarship programme
Used by ECB for training courses.