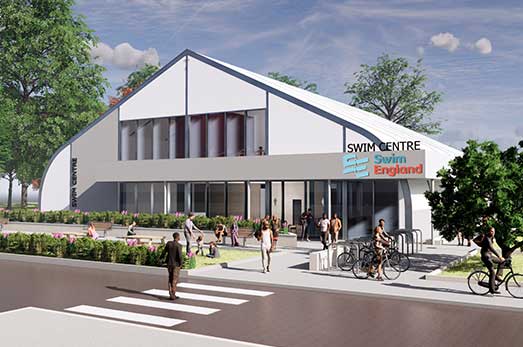 Feasibility Report
Download the Feasibility Report.
Challenge
Currently in the UK there are 5072 public and private pools across 3882 sites. 2226 pools and 1711 sites are over 30 years old, which equates to 44% of the UK's total provision. Usually pools have a life cycle of 25-30 years meaning many of these pool facilities will need to be replaced in the immediate future.
Use of conventional construction methods and materials make the building of new pool facilities very costly and usually unaffordable. Swim England contacted Paragon Structures and asked us to undertake a feasibility study for an innovative, high quality, cost effective and environmentally friendly swim and leisure facility.
Solution
Paragon Structures and Cowan Architects have developed this innovative concept design for a high quality, cost effective and environmentally friendly Swim Centre that can be rapidly constructed with economic cost certainty through a pre-designed, off-site solution.
Paragon and Cowan have developed the concept building form and layout in conjunction with swim and leisure industry experts, bringing together a complete project team to deliver a turnkey solution from design through to handover of the finished swim facility:
Paragon Structures
Cowan Architects
Synergy
Osborn Associates
WFBA Structural Engineers
FT Leisure
Myrtha Pools
The concept design develops a complete swimming and activity centre promoting health and well-being in an environmentally and economically attractive solution. We have utilised the world's leading insulated tensioned membrane building from Sprung Structures and world leading pool technology providing unique design, construction and operating benefits, delivering a superior swimming environment at a significant lower cost.
The swim facility has been designed with a focus on energy efficiency, sustainability and lifecycle costs. Utilising the Sprung building envelope minimises design and construction costs and significantly reduces the construction time, which in turn de-risks the project programme.
Time Frame 
A 30m x 37m Fully insulated building erected in 5 weeks and full build programme of 35-40 weeks compared to 1 year+ for a conventionally built pool facility.
Results
The Paragon Swim & Leisure centre will be a state of the art facility using an environmentally friendly, cost effective and sustainable structure and construction methods. The ground floor provides an open and light reception area, leading onto a cafe and social space. From here you can access the changing village and the pool side or go up via the lift and stairs to the first floor activity spaces and poolside viewing.
Accommodation includes:
Fully accessible, naturally lit, 25 metre 6 lane pool, with views over the external landscaping
Swim England compliant pool sides and activity zones for community, school and exhibition swimming
Separate wet changing villages, connected to group rooms with multiple family/baby change rooms within both changing areas meeting all age-group compliance
Welcoming reception and arrival hall, linking directly to café, social space and first floor areas
Integral plant room and storage accessible directly from the pool hall
The first floor provides an open and light circulation area, connecting to the poolside viewing and activity/fitness areas. The spaces overlook the reception, café and social spaces and are supported by functional office, storage and toilet facilities.
Accommodation includes:
Fully accessible facilities for activity, spectating and viewing
Tiered spectator seating for up to 150 people
200 square metre, divisible, multi-purpose activity spaces
Office and staff changing for activity and swimming pool uses
Small group/individual dry changing and toilet facilities adjacent to activity spaces
Storage for activity areas
Specific Uses
The specific uses are:
Community swim & leisure facility
Competition venue
Tiered spectator seating for up to 150 people
Facility can be rented out to schools, swim clubs and learn-to-swim operators
Multi-purpose activity/gym space
Café and social activity space