Swim England turns to Paragon Structures for ageing pool solution
22nd September 2020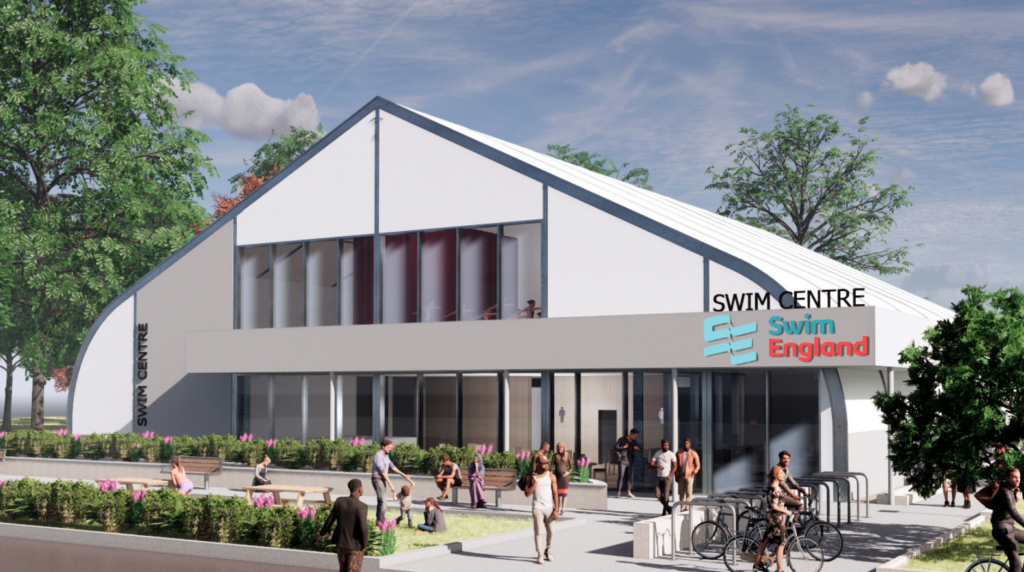 Swim England has a challenge on its hands. With more than a quarter of public swimming pools remaining closed despite being given the green light to reopen, the nation's swim and leisure facilities need a major overhaul.
Which is why Swim England's head of facilities Richard Lamburn commissioned Paragon Structures to produce a feasibility report detailing its vision for swimming and leisure spaces of the future.
The resulting report is an innovative, accessible and flexible concept design created by Paragon Structures alongside Cowan Architects and other industry experts.
This cost effective, high quality and eco-friendly solution could help place swimming and leisure at the heart of our communities once again.
Here are some of the main highlights from the report.
Keeping construction costs down
A key advantage of Paragon's insulated, tensioned membrane structures is lower build costs. A quick look at the figures says it all – £2,500 per sqm compared to £4,000 per sqm for conventionally-built pools. And you don't need me to tell you, the less the construction costs, the more swimming pools can be replaced.
Design costs are also reduced by having the sprung structure and Myrtha pool designed and manufactured off-site. Again, for comparison, we're talking 10 days' design time compared to six to eight months for a conventional structure.
Operating costs are also kept to a minimum thanks to the innovative FTMicron4 pool filtration system, which improves water quality and reduces plant room size.
Providing quality design and structure
Conventional building methods often rely on steel structures, but aluminium offers greater performance and versatility. Featuring an aluminium and membrane structure, the concept pool design is rust proof and long lasting. Each structure comes with a 50-year frame warranty and 25-year membrane warranty, and will maintain tension levels throughout that time.
Users benefit from a better quality swim environment thanks to daylight roof panels and reflection off the white interior membrane. Together these provide plenty of natural light and a bright, welcoming space.
Excellent acoustic qualities also enhance the user experience (essential for swimming galas and competitions).
The changing areas meet all age-group and gender compliance requirements. Plus, all of Paragon's facilities come with a BREEAM rating of Excellent (placing them in the top 10% of buildings in terms of sustainability performance), and are Swim England compliant.
Focus on energy efficiency and sustainability
With businesses re-assessing their attitude to climate change, building infrastructure needs to follow suit. With the government urging industry to 'build back better,' the more impressive a structure's eco-credentials, the better the building.
Our concept design incorporates a high proportion of recyclable components. What's more, the eco-friendly structure can fit into just four shipping containers – meaning less vehicle traffic during construction. Its lightweight aluminium construction also significantly reduces the size of concrete foundations and associated earth removal.
There has been much talk about how to make concrete greener, but one route to eco-friendliness is to use less of it. The prefabricated stainless steel pool featured in the concept design reduces the amount of concrete used during the construction process.
Finally, Paragon's solution boasts excellent insulation (far greater than building reg requirements) that reduces u-values, energy loss and climate control costs. The highly tensioned membrane creates an airtight building envelope that offers year-round comfort and lower operating and energy costs.
From design to reality
This might be a concept design for now, but it could easily become a reality for many communities around the country.
Our design offers an effective solution to replacing the UK's ageing stock of pools, delivering on all fronts – cost, quality and sustainability.
You can read the feasibility report in full, or contact myself or one of the team at Paragon Structures to find out what we could do for you.