Tensioned membrane buildings: Endurance engineering and minimal maintenance
19th January 2021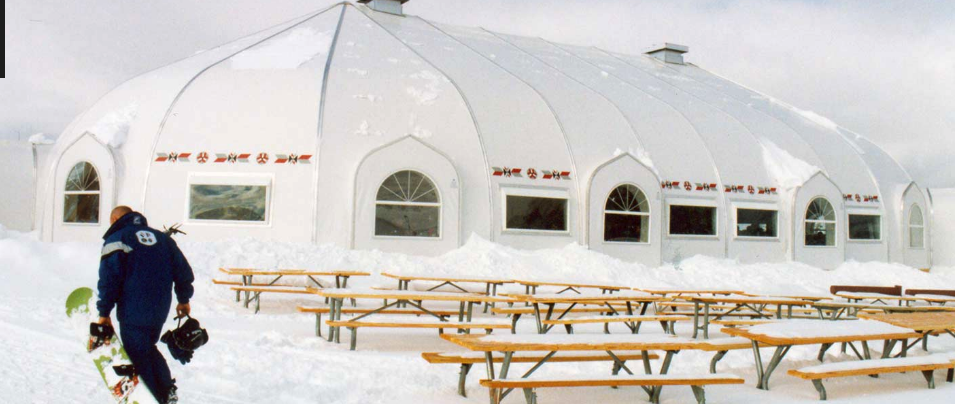 Here at Paragon, we're quick to talk about the rapid build time, eco-credentials, and cost-efficiency of our tensioned membrane buildings. But two benefits that often get overlooked are the minimal maintenance and long-lasting durability. In this month's blog I want to put maintenance (or rather the lack of it) and resilience in the spotlight to showcase just how brilliant these buildings are.
Engineered for extreme weather
Tensioned membrane buildings are built to last. From Saudi to Siberia, these buildings can withstand whatever the weather decides to throw at them. From extreme temperatures (-50 to +50°C) to hurricane-strength winds (more about those later), these buildings will stand their ground. With a 9-inch layer of insulation from floor to ceiling and a blackout layer preventing solar gain, climate control is one of the many things these buildings do exceptionally well.
Thanks to the shape of these buildings, they can also endure the weight of heavy snowfall and shed snow when needed. I guess it's what you'd expect from a membrane made in Canada – a country used to creating solutions for harsh conditions.
(Virtually) damage-proof
These modern, innovative buildings are built to withstand more than just the weather. The material is engineered using ripstop technology. The buildings are also hydraulically tensioned – meaning they're pulled extremely tight so there's no movement in the membrane. Together, these factors make the membrane highly resistant to ripping or tearing – even when it's been forcefully punctured. The membrane also meets full UK and EU fire regulations.
Minimal maintenance, minimal cost
When it comes to maintaining your tensioned membrane building, you can be pretty hands-off. The membrane – which comes in a range of colours and can be printed with your own logos or graphics – is complete with Tedlar and Kynar coating to protect it from mould. It is also self-cleaning, repelling most grime. If any dirt does accumulate it will be washed away with the rain. In fact, all you need to do is wash the membrane once a year. For that you'll need a cherry picker, an industrial brush and some soapy water – in terms of annual maintenance costs, we're confident that's pretty low.
According to one client, their tensioned membrane building has virtually no maintenance costs. They've calculated these buildings are 54% more efficient in terms of their running costs compared to traditional buildings.
Buildings designed to last
It's easy to look at a tensioned membrane building and think it has a short lifespan. But don't be fooled. These buildings are designed to last. The membrane has a life expectancy of between 35 and 40 years, while a 50-year frame guarantee means these buildings are going to stay put. There's also the option of reskinning the outer membrane, which can be done for about 20% of the original cost.
To give you an example of how durable these buildings are, I'll take you back to 2005 when Hurricane Katrina hit Louisiana. Amid so much devastation, Buras-Triumph, an area in the state, became famous as the place where a tensioned membrane building was virtually the only building left standing after winds of up to 175mph.
The performance, durability and resilience of these tensioned membrane buildings never ceases to amaze me. At Paragon Structures, we can help you customise a tensioned membrane building to meet your requirements – however extreme they are. To see how our solutions might work for you, drop me a line today.